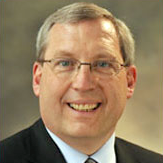 Welcome to The On Purpose Podcast with Lynn Thompson.
The length of this show is 1:07:07 because why interrupt the flow of a great conversation? It is packed with so much information and insight from a long time, very personable Funeral Director, Cam Skipper of Gilchrist Chapel in Guelph, Ontario, Canada.
Cam was born in Guelph where he grew up and has lived most of his life. His father owned a funeral home and their family lived in the apartment above it. That is how he became interested in funeral service. Cam attended Humber College in Toronto for the Funeral Service Program and received his Funeral Directors License in 1981. After working at a funeral home in Kitchener for five years, Cam returned to his home town in 1985 to work at Gilchrist Chapel. He feels lucky to have a career that does not seem like work and he has met many incredible people in those years. He married Barb in 1989 and they have two grown sons.
Music is audio_hero_Black-Fedora_SIPML_J-0310 from https://www.zapsplat.com
The On Purpose Podcast email: theonpurposepodcast@gmail.com
Lynn is an editor of words and audio.
See more information at Lynn's LinkedIn page.
Thank you for listening.
Be safe.
Be well.
Till soon.